Mobile Websites
Websites Actually Made for a Phone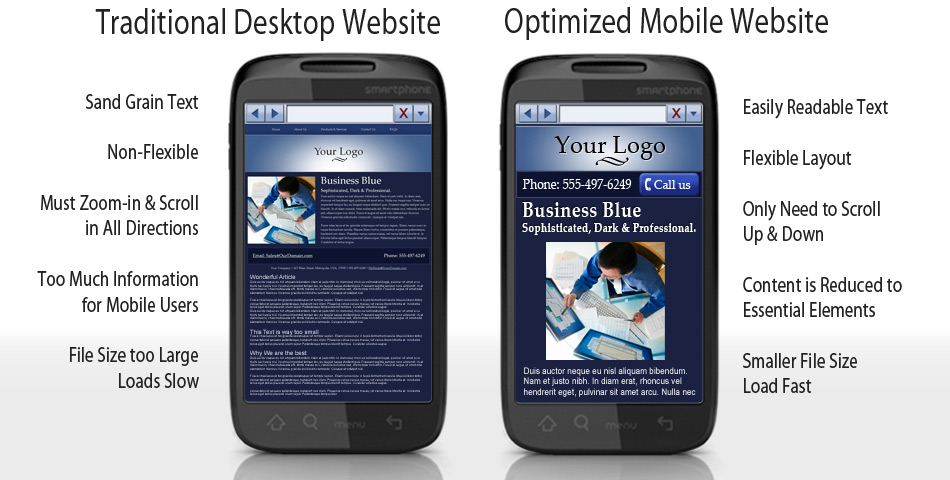 Today, your customers are using their mobile devices for just about everything. When searching on mobile devices, 84% of consumers look for information about local retailers, such as phone numbers, address and hours. (Performics, 2011) When they try to find your website what do they see?

Most mobile devices have a difficult time viewing a normal business' website because it is so big. The website wasn't made for a mobile device. Often times a customer must scroll through many pages just to find what they are looking for. Some graphics don't display and load time is terrible.

Mobile websites can increase your visibility to your customers who are always on the go. Don't miss out on millions of customers simply because they can't view your website. Setting up a mobile website is fast and easy with EZ-NetTools. After conducting a mobile search, 68% of users visited a business online or in person; 53% made a purchase (Google Research, 2011)

Once a customer has found your business, the work doesn't stop there. You must encourage them to visit your business in person or to make a purchase. Include a call to action on your mobile website by using tools such as email alerts, text messaging, maps and announcements of specials. Engage with them. Send them coupons or discounts to persuade them to buy.

To achieve the best results be sure to cross promote. Cross promote your mobile website at your physical location, on your social media accounts, on your business' regular website and vice versa. Include QR codes in all locations possible to maximize the amount of customers your business attracts.

You can be more successful today by using EZ-NetTools to create a mobile website for your business. It will create a smart phone experience like none other.

Remember, there are 73.3 million smart phone users in the U.S. (Emarket, 2011) How much business are you missing out on?